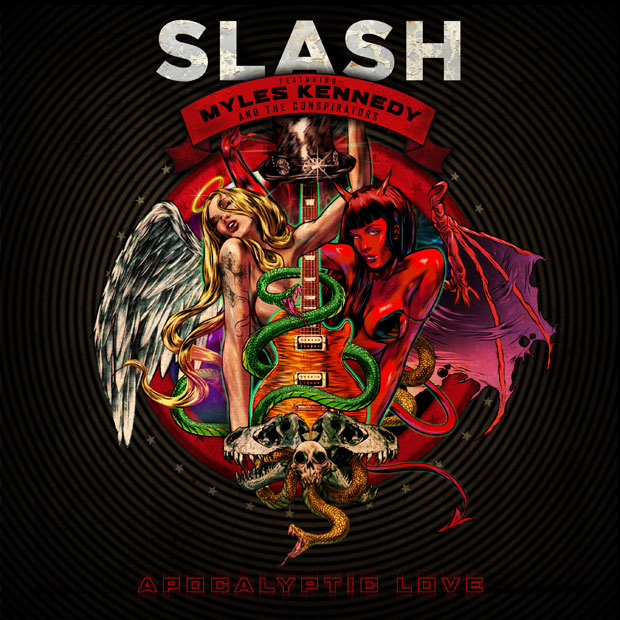 So the travelling circus that is
Guns 'N' Roses
continues to intrigue and embarrass in equal measure. The recent fiasco of the rumoured original line-up performing at the
Rock And Roll Hall Of Fame
ending up being just a pipe dream, it looks increasingly unlikely that we will see a reunion of this classic line-up even if a bunch of pigs fly over the horizon whilst that horned fellow below has to get out his thermal undies. Simultaneously the
Velvet Revolver
vocalist spot is still open and has seen everyone from
Corey Taylor
, a possible returning
Scott Weiland
to
David Cameron
(possibly) being linked to it. If
Slash
can make albums this good though we could fair alright without.
Slash's previous solo album was a pretty fun affair, and in the absence of VR, very welcoming to hear that guitar tone once again. It did have a feel of a bit of a vanity project about it at times though and was a bit hit and miss. Some excellent tunes and collaborations such as Ian Astbury on "Ghost", but some were pretty dull and some of the guest appearances simply looked like Slash showing off his celebrity mates. The new album, "Apocalyptic Love" instead sees a cohesive band, with Alter Bridge's talismanic Myles Kennedy on vocals. Having a fixed line-up means that this just works so much better than the previous album. It feels like a proper band and album rather than a project. The fact that this is a grouping that have played together extensively as well (on Slash's touring for the last album), you can tell that they are a gelled unit.
It cannot be stressed how much more this album feels like an actual band playing rather than like before, but it also even feels like a young and hungry band. With headphones on you can hear countdowns into many of the songs before they actually kick in, suggesting a rawness to proceedings. If it wasn't for how instantly recognisable both Myle's voice and Slash's guitar sound were you could think this was a bunch of young lads. Speaking of Myles, you can see why Slash was so keen on having him as his permanent singer, as his incredible range and ability only continue to cement his reputation as one of the very best rock vocalists around right now, arguably THE best. Such a strong singing voice and vocal range, but here he also shows a wide variety of delivery, from slower pace, long notes held, to even machine gun speed singing at times, whilst sounding incredibly cool and with swagger throughout. A possible show stealing performance.
Of course it is Slash's guitar work and songwriting which is the real star of the show, with some of the strongest riffs he has written for some time, this album is full to the brim with real summertime anthems. It is all so fluid as well; whilst the first solo album had him trying to play differently to suit different singers, which would see him attempt eeriness with the Ozzy fronted number, here it is all fist pumping, good times bluesy rock which he is a master at. "Apocalyptic Love" is simply full of anthems just perfect for the sunshine and the hot weather. This is your summer soundtrack. Enjoy.
[8/10]
Recommended: Apocalyptic Love, Standing In The Sun, No More Heroes